Heather Johnson photography has been capturing engagement sessions in South Carolina since 2013. I have photographed newly engaged couples in locations around the Charleston, Greenville, Aiken, and Camden, SC areas during alls seasons of the year. SC cities listed above have historic downtown areas that offer some fantastic locations for elopements, engagement sessions, and bridal portraits.
You may ask yourself why do you need an engagement session? A engagement session is a great way to celebrate your engagement. These photographs can be a special reminder of your relationship to your partner or spouse before you are married. This is just one of the many reasons to have engagement photos created. Most couples have them created to become more comfortable in front of the camera, before your wedding day. The day of your wedding, you want to look as relaxed as possible during formal and candid photographs. Having photos taken is also a great way to have beautiful portraits taken, that are not wedding day images. Most couples want something to hang on the wall and to commemorate their engagement.
I specialize in couples sessions and locations around the historic downtown Charleston, SC and South Carolina areas. Engagements are one of my favorite portraits in the image making process. I love to get to know my couples before their wedding day. There are so many beautiful locations to choose from. A few of my favorite Picturesque locations in Charleston, SC is Chalmers street, Washington Square, Philadelphia Alley, Queen Street, and Broad St. and Longitude Ln. there you have the beautiful cobblestone streets, angle oak trees, moss, and beautiful brick walls. Here is a list of my top 10 favorites below: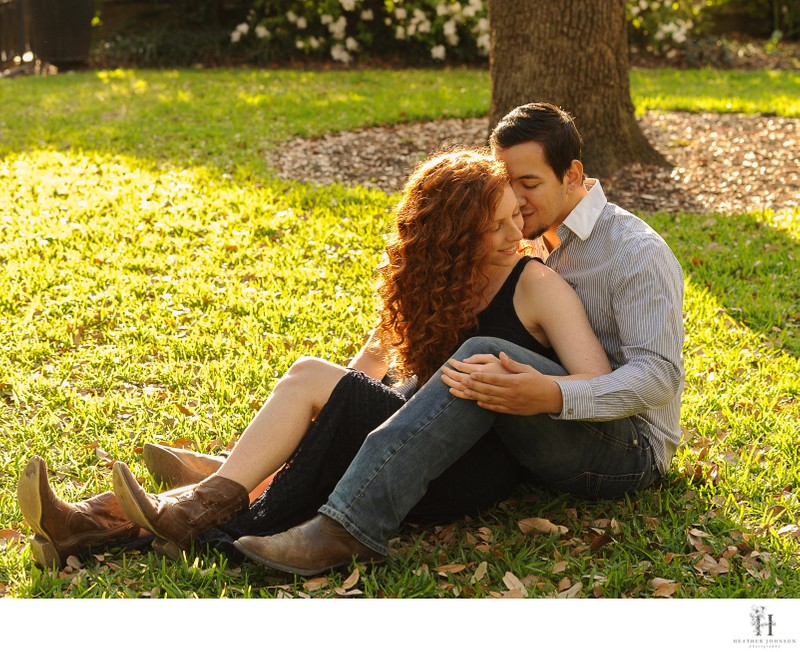 Above is an Engagement photograph of Carly and Matt at Washington Square ; Washington Square is a Historical Park at the corner of Broad and Chalmers Street in Historic Charleston, SC.
A close up Portrait of Carly and Matt at Washington Square Park Charleston, SC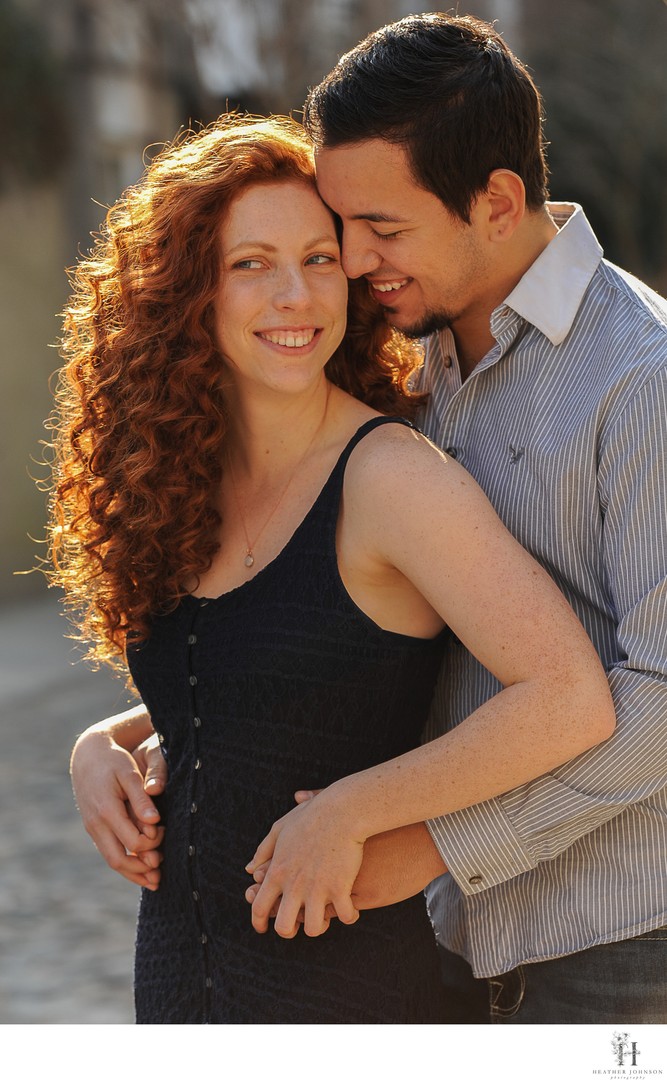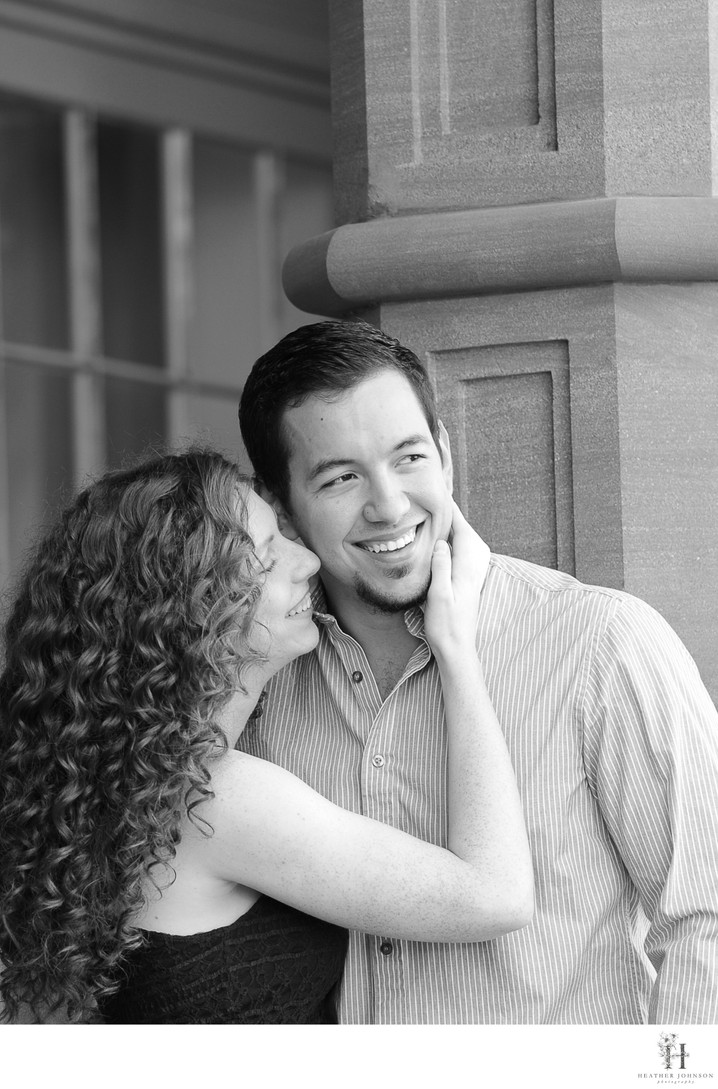 Created these beautiful Portraits of Carly and Matt at the Dock Street Theater and on the nearby surrounding streets.
1. Hampton Park - Beautiful Park with scenic views
2. Chalmers Street/ Philadelphia Alley/ Queen St.
3. The Famous Rainbow Row
4. Longitude Ln.
5. Exchange Street
6. Washington Square
7. Waterfront Park/ Everyone must take their photo at the Pineapple Fountain.
8. Marion Square area
9. The top of the Restoration Hotel
10. Near and around Broad st. and St. Michaels Church
11. Mills House Hotel Charleston's Pink Hotel
Other locations in the Charleston area you might want to consider are :
1. The Historic Old Village area in Mt. Pleasant
2. Pitt Street Bridge
3. Isle of Palms Beach/ Sullivans Island beach is illegal to have professional photographs on
4. Isle of Palms Marina area
5. Breach Inlet
6. Folly Beach
7. Plantations: Middleton/ Magnolia/ or Boone Hall
8. Private beach inside Wild Dunes, you must either live inside wild dunes or renting a house inside the resort. Being an adventure type person is a requirement for this location. You must ride a bike, Walk, or drive a golf cart to access this location. There is a steep hill you must climb down to access this location.
9. Wild Dunes Resort
10. Charlie Post Park
Locations around the Camden and Aiken, South Carolina area are beautiful as well these images can have a city feel in downtown Aiken or Camden. Both Cities are also historic cities as well as Charleston and have fantastic historic downtown areas for creating images. Many of my sessions in Aiken and Camden here involve horses, Camden is a horse town and Aiken is the thoroughbred country of South Carolina. If you own a horse, and want to include them in your portraits I encourage it. Your boarding stable or where you ride is a great option for your engagement session. My favorite locations here.
1. near around Broad/ Rutledge st. in Camden, SC
2. Springdale Racetrack (permission is required)
3. Hope Gardens
4. Hitchcock Woods
5. Aiken Arboreum Trail
6. Aiken County Farmers Market
7. Aiken Vistors Center and Train Museum Center
8. South Boundary
9. Stables at Rose Hill Estate ( Permission is Required)
10. Camden, SC Hunt Country if your up for a Adventure type photograph session
I photographed Amy and Steven on their Family farm in Camden, SC. Here is a great way to include your horse in an Engagement Equestrian Portrait Session.
Matt and Sara's Equestrian engagement portrait session were photographed at their family farm in Aiken, SC . Black and white images are always classic and beautiful.
Kershaw, and Lancaster, SC is also an option for your engagement session or wedding photography. I Visit often here, a few options in and near Kershaw, SC and Lancaster, SC area.
1. Stevens Park
2. Downtown Kershaw, SC or Lancaster, SC
3. Near the railroad, it is illegal and dangerous to photograph anyone on a working railroad.
4. At your horse boarding stable, family farm, or home. Including your animals in your Photo session is encouraged
5. Kershaw, SC Country Club ( Permission is required)
6. The Ivy Place (permission is required)
7. North Corner Haven (permission is required)
8. Laurel Haven Estate ( Permission is required)
9. Historic Craig House at Craig Farm (permission is required)
10. 40 Acre rock, this location would require hiking and an adventure type photo session and some walking. It would be a great fit for a couple that enjoys the outdoors .
Portraits of your pets in your wedding or engagement session is a great way to including them in your wedding and photos during the wedding planning process.
Engagement sessions begin at $250. prints and digitals are purchased separately. I am a licensed and insured photographer. While selecting your photographer I would recommend you make sure they are licensed and insured most wedding venues require an insurance policy from their photographer.
Greenville, SC/ Asheville / Tryon/ North Carolina area area Is a beautiful area with many natural locations with mountain or garden views and a stunning downtown area.
1. Falls Park on the Reedy River
2 Bald Rock Nature Preserve
3. Botanical Gardens
4. Jones Gap State Park
5. Biltmore Estate - Asheville
6. Red Horse Inn
7. North Carolina Chimney Rock Lake Lure Flowering Bridge - Dirty Dancing was filmed here
8. Table Rock Welcome Center
9. Historic Downtown Greenville